I've been seeing these pop up around the blogosphere and decided today would be a fun day to partake in one myself, since I actually had a lunch worthy of blogging about. Weird, I know, but lunch is my least favorite of all meals. I'm just not creative enough to think up of a good lunch. But brunch, that is
definitely
my favorite meal of the day.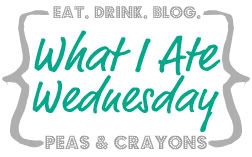 Let's start with breakfast, which didn't happen. I had to get a blood test this morning for a routine check up so I had to miss breakfast. Terrible. So for second breakfast I tried one of these.
I had a coupon for a 4-pack of Ensure so I figured why not. Plus, I thought they would be good to drink on the days that I workout to get that extra protein needed to rebuild my muscles. The vanilla flavor is alright, but I'd try the chocolate flavor before I get the vanilla again. And I really don't see myself buying these unless I have a coupon or they're on sale or something. Not because I'm cheap, but because I don't think they're necessary to drink all of the time (or maybe it's cause I'm cheap...).
For lunch, I decided to eat the food I was photographing. Two birds with one stone, right?
Chicken with homemade BBQ sauce and cucumber salad. Recipes to come soon! Courtesy of Ina Garten.
And finally for dinner, beef stew. Homemade too. Although to be honest, I didn't actually eat much of this. I made some eggs instead. I just wasn't feeling the stew.
Let's see, what else happened today...
After my doctor's appointment, I headed over to Road Runner Sports to get fitted for some running shoes. The process was actually pretty awesome. First, they took a 3D reading of my feet to determine my balance, how much pressure I put on each foot, and whether or not I have high arches. Well it turns out I have EXTREMELY high arches, and in actuality only my heel and the balls of my feet make contact with the floor. I had no idea my feet were this bad but it does kind of explain the shin splints, knee problems, and ankle problems. And it happens that I put more pressure on my left foot rather than my right foot. So after that, they had me jump on a treadmill and they watched my stride as I jogged barefoot. When you run, your ankle is supposed to turn in slightly to help your legs take the blow from your foot's contact with the ground. However, my ankles were overpronating, meaning they leaned in way too much. The guy suggested I get a shoe with a lot of stability and sent me to one of the sales associates. After trying on three pairs, I was down to two of them, but one seemed a little tight while the other seemed a little loose. The sale associate brought out a third pair of shoes as an afterthought and
I fell in love
. They were not too tight, but my foot wasn't slipping out of them either. Plus I already have a Nike+ sensor - now I can finally use it correctly! I put them on hold and I'm going back on Friday with my mom to get them as an early birthday present :)
The sales associate was trying to convince me to buy the insoles too, but I wasn't really sold on them until she showed me how I ran with and without the insoles. There was a noticeable difference in how much my ankle leaned in, so I caved and got the insoles. I figured they would be a good investment, and if I'm going to take my running seriously this year I need to have the right equipment. Plus you should have seen the video, I can't believe how much my right ankle leans in!
After that, I finally found a pair of
black heels
that work perfectly for me. I have been looking for black heels for about a month now, and I finally found a pair that was comfortable and not too tall. Another good investment in my book.
The rest of the day consisted of getting some work done for student teaching and going to the gym. My workout session got cut short, however, when the power went out. Some guys kept working out
in the dark
and the employees were like "yeah no, you have to stop."
Hope you all enjoyed my first WIAW! How were your Wednesdays?
Please note that I am not advocating for RRS or DSW, just sharing what I did today
.